There's no doubt that there are many great reasons to visit Seville in spring. In fact, Seville is buzzing with music and sport in May. The music and sports events taking place in May, to name but a few. LOCK & enjoy! doesn't want you to miss out on any of the incredible events that are just around the corner. Keep reading to learn about the entertainment on offer in Seville at this time of year!
What festivals and events are being held in May?
Now that the good weather is here, it's the perfect time to finally kick off the season of open-air festivals and concerts. Once again, Seville is ready to offer top-class performances to locals and visitors alike. If you're thinking of coming to the city soon, LOCK & enjoy! gives you a rundown of some of the reasons why this would be a good idea.
Interestelar 2023 and other concerts
One of the highlights is, without doubt, Festival Interestelar Sevilla, now being held for the fifth time. This is one of the most eagerly awaited events for fans of indie music. This year it will be held in Centro Andaluz de Arte Contemporáneo (CAAC) on 19th and 20th May.
This year's line-up includes major artists such as the Madrid band, Vetusta Morla, Iván Ferreiro and Guille Milkyway with La Casa Azul. They are joined by other renowned names such as La La Love You, Ladilla Rusa, Niña Polaca, Sidonie and Viva Suecia, among others.
As well as the best indie music, Interestelar has lots of other experiences in store for the whole family: workshops, exhibitions or gastronomic events, among others.
If indie music isn't your thing, don't worry. Other concerts to suit all tastes round off the entertainment on offer in May:
Hombres G. One of the country's most iconic bands, Hombres G, will take to the stage on 27th May in the Live Sur Stadium. This is an incredible chance for you to soak up the country's pop-rock vibe from the 80s.
Luz Casal. A stone's throw from the LOCK & enjoy! luggage storage lockers in Seville, in the Cartuja Center Cite to be precise, Luz Casal will showcase new tunes on 19th May.
Gansos Rosas. If you're a fan of the legendary rock band Guns N´Roses, on 20th May you can rock out to their songs with this tribute band at Sala Even.
King's Cup Final
Another event that will light up the city is the King's Cup Final. This match will be held on the 6th May in the La Cartuja de Sevilla stadium. If you're a football fan, don't miss out on the final between Real Madrid and Osasuna. Who will lift the cup?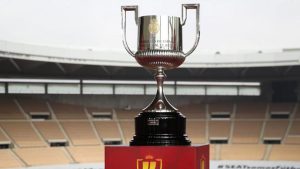 Tips on how to enjoy music to the max in Seville
To make your concert and festival experience even better, check out these LOCK & enjoy! tips. Take note!
Plan ahead. There's a lot to see and do at festivals and gigs, so it's a good idea to plan when your favourite artists will hit the stage so you can manage your time better. When you've got it worked out, put your schedule as the background on your phone so you'll have it at hand at all times!
Choose a meeting point beforehand. Going to the concert with friends? Then decide on the meeting point. Remember that there might not be phone coverage or you might run out of battery. So, the smartest thing would be to agree on somewhere to meet. But choose somewhere that isn't crowded, otherwise you won't find each other.
Bring only the basics. There's nothing better than travelling light so you can dance, jump and enjoy yourself with complete peace of mind. We recommend a small rucksack or bum bag for your essentials: mobile, wallet, tissues and sun cream. You can leave the rest of your belongings in a luggage storage locker in Seville. With extremely practical spaces where you can store your suitcase with complete peace of mind. These are located in strategic areas around the city, so, if need be, you can go pick something up quickly.
Stay hydrated. Dancing, jumping, standing for hours on end and the heat cause considerable physical strain. Don't forget to hydrate frequently so you can keep going for longer.
Sun cream. This city is renowned for its brilliant sunshine. Protect yourself from the sun's rays whether you're here to do a spot of sightseeing or for the open-air festivals. As well as putting on sun cream, you should also wear sunglasses and a hat.
Enjoy the city!
Ready to groove to the best music and the incredible vibes that await you in Seville in May? Remember you can trust LOCK & enjoy! and our lockers in Seville to really make the most of the experience. Very close to these events you will find our locations of: ALAMEDA, ARENAL and DUQUE.
And if you still have time left to enjoy the city, don't forget to take a look at our ENJOY! section, to enjoy the best activities and experiences in the city.